House System
Our house system at Cox Green School consists of 7 houses (Bannister, Churchill, Hawking, Nightingale, Parks, Shakespeare, and Winton). Through being attached to a house, we aim to foster a sense of belonging amongst year groups through promoting healthy competition, enhancing student engagement, and encouraging personal and social development.
Intent
Our intention of the house system is to create team spirit through friendly competition whilst building on soft skills that students can apply both in school and beyond. Through embedding healthy competition, students can showcase their talents, strive for personal excellence, and work together as a team.
Implementation
Students can earn points for their houses in numerous ways such as achievements, academic excellence, good behaviour, or acts of kindness. A diverse range of house competitions and volunteering opportunities run over the course of the year which also allow students to positively represent themselves and their house.
Impact
The impact of our house system is that students form an identity and develop strong bonds with their housemates, leading to a supportive and cohesive school community. Alongside this, the house system helps promote positive values such as teamwork, respect, sportsmanship, and camaraderie within the school.
Programme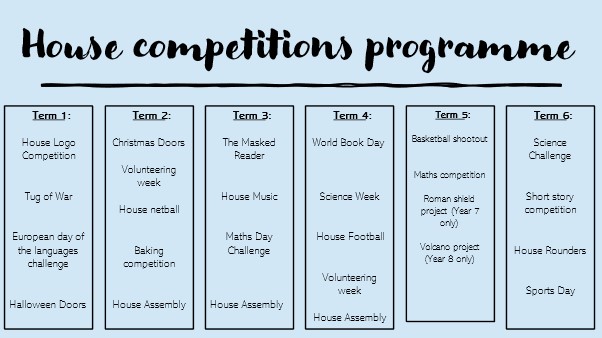 Student Leadership
We have a variety of student leadership opportunities which allow our students which empowers our students to take initiative, make decisions, and contribute to the school community. Through these opportunities, students can develop their leadership skills whilst and contributing to the development of future leaders within the school community.
Junior School Leadership (JSL)
JSL are our student representative body who address issues, advocate for student interests, and contribute to the improvement of the school community. They liaise between students and staff, advocating for changes or improvements that benefit students' well-being and educational experience.
Prefects
Elected by staff, our Prefects are the epitome of individuals who display a positive example for other students. They are role models in terms of behaviour, discipline, academic performance, and involvement in school activities.
Head students
Our head students serve as the primary student leaders and ambassadors of the school. They represent the student body and act as a voice for student concerns, opinions, and ideas. They demonstrate strong leadership qualities and set a positive example for other students.
Wellbeing Ambassadors
Students who play a vital role in promoting and supporting the well-being and mental health of their peers within a school community. They provide peer support, raise awareness and create a safe and non-judgmental environment.
Sports Committee
Responsible for organizing, managing, and overseeing sports-related activities and events within a school. The committee communicates sports-related information to students, parents, and the school community.
Sports Leaders
These individuals play a vital role in fostering a love for sports, promoting physical activity, and developing essential skills among young students.